An urban outreach ministry of the Sarasota Seventh-day Adventist Church.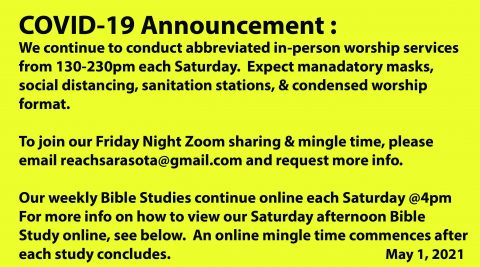 Live streams commence each Saturday at 4pm EDT
Watch on YouTube Live or Facebook Live.  You can also view any of our past Bible Studies via our YouTube Channel or FaceBook Page by clicking on the buttons below.
What is REACH?
 
It's about uplifting Jesus...
in the 'North Trail' community of Sarasota by expressing God's love every day in tangible ways.

It's about raising up a new generation...
of believers who are actively involved in sharing the good news of Jesus Christ and His soon return.

It's a church movement...
that includes and empowers people of all ages in making a difference for God's Kingdom.
Worship with Us
Saturday worship gatherings are alive with the
Holy Spirit's presence.  In everything, we seek
to lift up Jesus, praise Him, and make Him
known in our lives.  Come!  Draw closer to God
and make friends with other believers.
Experience Community
We all need a place to belong.  At REACH you 
become part of a movement - a group of 
people seeking to make a difference in the 
world while connecting together in community.
In study, worship, food, and fellowship, we draw
closer to God and each other.
Take Action
God has a purpose for your life.  At REACH
you can join a community actively involved in 
change.  Impact your community...share your
talents & resources...be a part of the
movement.  You can make a meaningful 
difference in this world.
What to Expect
Come Comfortable
Connect with God as you are.  Come dressed however you feel most comfortable.

 

God Centered / Bible Based
We are focused on Jesus, our Lord and Savior, and
believe that everything we do needs to come from the inspired Word of God.

Make Friends
People of all ages and backgrounds
find new friends to connect with.

Come Hungry!
Many of our gatherings include food!  Come join
us for a delicious meal together!
Current Activities and Opportunities
Depression Support Group sponsored by Depression Bi-Polar Support Alliance of Tampa Bay (peer-led) Thursdays 7pm **SUSPENDED UNTIL FURTHER NOTICE**
Every 4th Saturday of the month = Outreach!  Come and join us as we get out into the community and show some love.
We collect new flip flops for our friends at Selah Freedom.  Selah Freedom is a leading national organization based in Sarasota that exists to end sex trafficking and rescue and rehabilitate survivors of sex trafficking.
Contact us

Drop us an email at reachsarasota@gmail.com

Call us at 941.677.3201

 

Sabbath Worship Gatherings

Saturdays

1:30 - Fellowship Lunch
2:15 - Bible Study
3:00-5:00pm - Worship Gathering

**SUSPENDED UNTIL FURTHER NOTICE**

 

REACH Worship Center

4500 N. Tamiami Trail, Suite 2

Sarasota, FL 34234